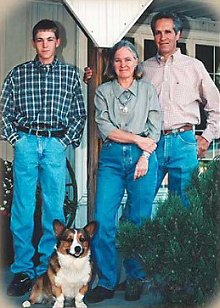 The McWhirters: Daniel, Carol, Dan, and their Corgi, Roy Rogers - photo by Kelly Graphics
---
"Western Pleasure is Our Focus and Our Passion"
---
The prestigious award given this year by the American Quarter Horse Association inducting The Invester into the AQHA Hall of Fame is not the first award the McWhirters have received, but one in a long line of outstanding awards bestowed on Dan McWhirter Quarter Horses.
Recognized by the AQHA as 25 Year Breeders, the McWhirters have produced and raised many of the best pleasure horses, stallions and producers that have paved the path of the modern pleasure horse. The Invester and The Big Investment were just the first in a long line of sires that are synonymous with pleasure. Carrying on this tradition with their current stallions, the future is just waiting to be written in the history books.
Located in Doniphan, Nebraska (a few miles from Grand Island) the McWhirters are always glad to show off their stallions (also known as "The Boys"), their offspring, and the broodmares that will continue to have a positive and influential impact on the pleasure industry.
Stop by, call, or email, for information on The Invester bloodlines or inquires into purchasing a McWhirter bred pleasure horse.

These articles tell more of their interesting story:
The McWhirters - The Heart of Our Industry : Lope and Lead Magazine

---
Dan McWhirter Quarter Horses
Dan & Carol McWhirter
480 West Rosedale Road
Doniphan, NE 68832
ph (402) 744-8341 - fax (402) 744-8371
copyright © 2004-2007 Dan McWhirter Quarter Horses · contact webmaster